Shoot!
I got glitter glued onto my
USMC
(Marine) sweatshirt today! Ackk, is
nothing sacred
? I'm sure there is some former Drill Instructor in the "Heavens" rolling over in his Grave!
Productive day though!
Hat for Luanne for her B-Day party at Joyworks tomorrow. I know she doesn't read blogs so I'm safe posting!
Luanne really likes to garden and loves the color red, so it was fun to make her something along that motif.
I used this great wrap we have at Joyworks , cut out a larger of the birds and glued it to cardstock so it was doubly thick and added a bit of foam board behind it, to give it a bit more depth. Then I glittered it and glittered some little silver butterflies and added vintage aqua flowers and of course, crepe paper festooning. This batch was my own this time, turned out pretty cute I think!
Stop by Jana's blog for our store and see what's fun and new! She posts
almost
every day!
http://joyworks-shopgirl.blogspot.com/
I also painted some terra cotta pots with Chalk paint for Luanne to label as she sees fit. . I'll add some flowers and or herbs to the pots tomorrow before the party,,,,,whatever "looks" right. I'll post those tomorrow with the Joyworks Party pics. I won't be able to write on them when I give them to her though, ugh, because it's supposed to "cure" for 3 days or so! Oops! Well, she'll get to write/do what she wants!

XXXOOO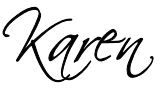 I also Joined "Brag Monday," Karen's event at the Graphics Fairy blog. Here are two items I created using her graphics.
Well then, I've been drooling over graphics over at the
Graphics Fairy
and finally figured out how to print the darn stuff..I know, I know, Computer
AND
camera challenged! But, I found this cute Birthday Graphic and embellished it with glitter (hard to see in photo) crepe paper and some great printed ribbon from the
Five Dollar French Market
. If you have never been to their Etsy site, well then you aren't livin'! Everything they sell is $5,,,,,and if you are a francophile, check it out!!!
www.etsy.com/shop/5dollarfrenchmarket
I also found this wonderful Image from Karen's site (Graphics Fairy) and I absolutely LOVE it! How cute are these little feather babies? Again, Still getting used to the new camera, but I just glittered the Chicks a bit in Yellow, double faced it with Green Card Stock on the back, a couple of scrunched rayon ribbons for a hanger and a bit of festooning and some vintage flowers.
Earlier today, I visited a new site that was mention on the Graphics Fairy site,,,,imagine that! Jax and Jewels make some really fun stuff! They are making the E-Vite for the Mad Hatter's Event coming up which you will be undoubtably see EVERYWHERE soon! They make darling papergoods and they had a quick crafting tutorial for paper flowers. Well, I decided to make a few today, Fast and fun! I added a bit of glitter (does that surprise you?) and a few ribbons to mine.
And I started on a few new Birthday hats for Etsy (ack, I have nothing to speak of in there right now!)
Here's one for a little Butterfly princess somewhere!
I should have been outside more, but there were glitter fairies in the Studio, so I decided to take advantage!
Hope you enjoyed your day, whatever you did!
Shell